After a couple of years of virtual meetings, the physical OpenInfra Summit is finally back, taking place in Berlin!
Over 1000 enthusiasts have gathered to partake in the Summit, where we are treated to exciting keynotes, sessions, and meetings covering all topics related to open infrastructure.
Trends in tech are always present at a conference like this, and this year we see two particular topics getting more time on the big stage – digital sovereignty and climate.
Sustainable, cloud-based workloads
As a lesser evil, compared to other industries, the ICT industry still has a lot of work to do to curb CO2 emissions in IT operations.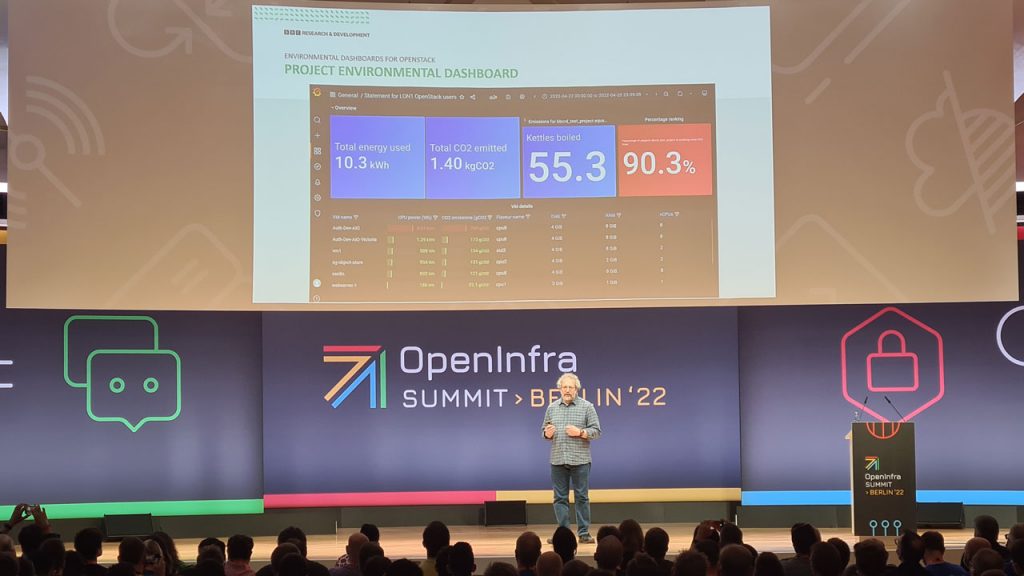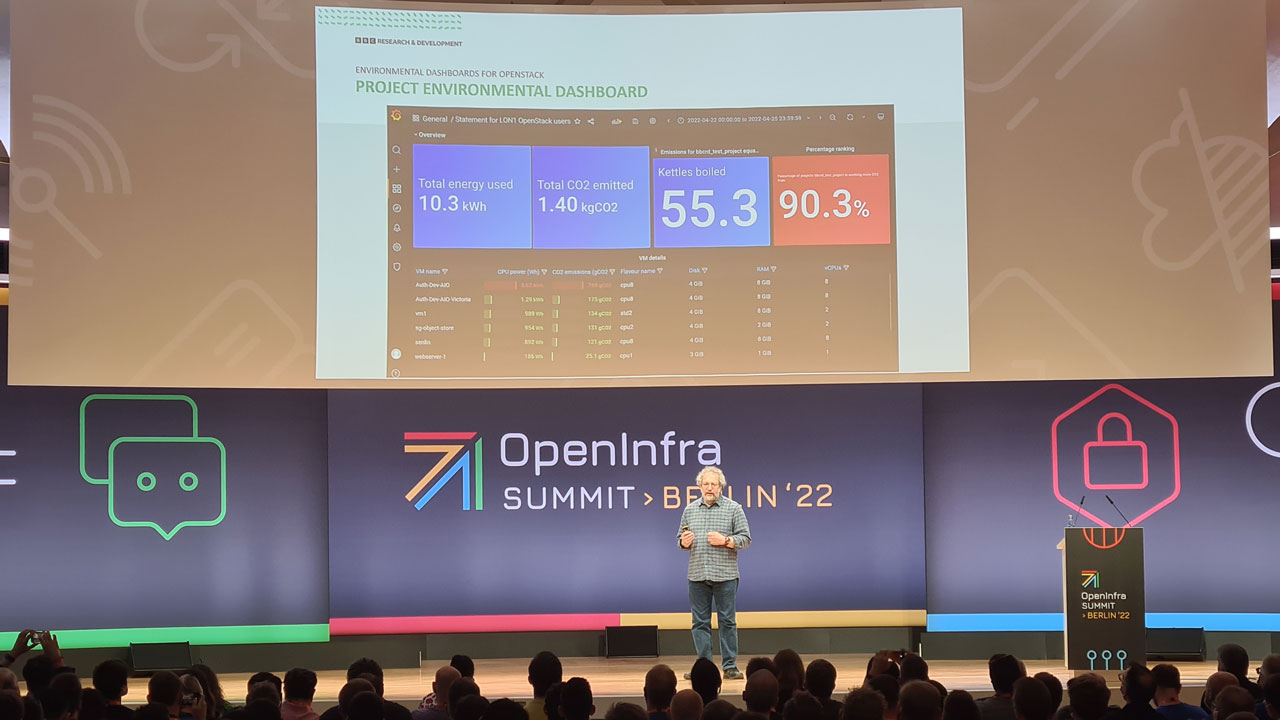 Stuart Grace and BBC R&D have done extensive research on how ICT companies can get complete control of their energy usage and how it affects CO2 emissions for a particular workload.
Stuart showed how to present a clear picture, in real-time, by measuring what type of energy source is in use at any given time and correlating that to CPU cycles.
For instance, a workload can have utterly different emission levels based on whether the data center has access to wind power when running it. In contrast, the same workload can have multiple times higher emission levels if it runs at a different time of the day. By steering when workloads are running – one can dramatically affect emission levels for all types of workloads.
The key is to understand patterns and how emissions fluctuate, and why. With this critical data and way of thinking about our ability to affect emission levels, the entire ICT industry can drive a more sustainable way of running their workloads.
Government representatives – a first at the OpenInfra Summit
Two government representatives took the main stage at the OpenInfra Summit for the first time. Germany and Sweden presented ongoing initiatives around their respective digital journeys and how they plan to support EU efforts.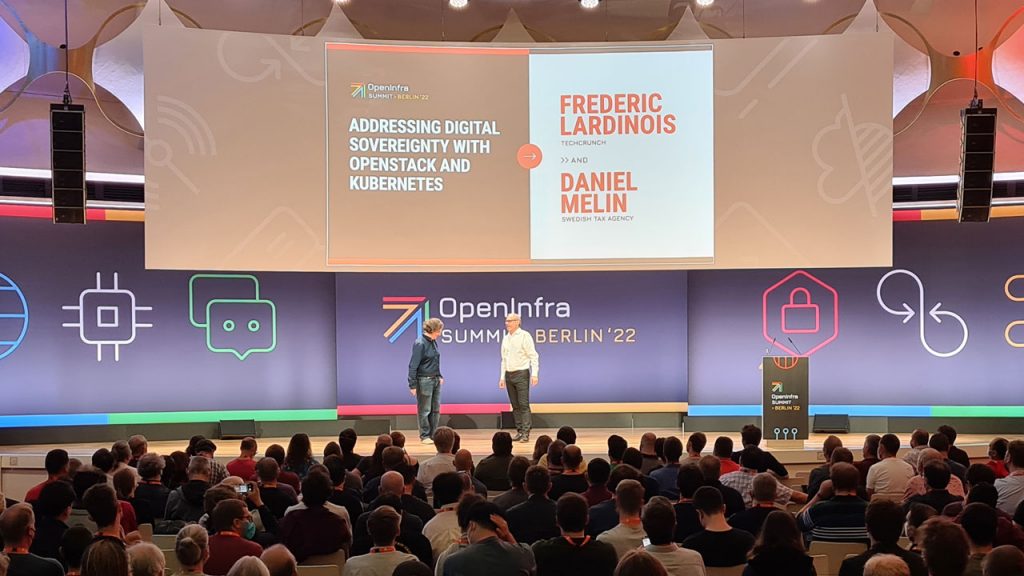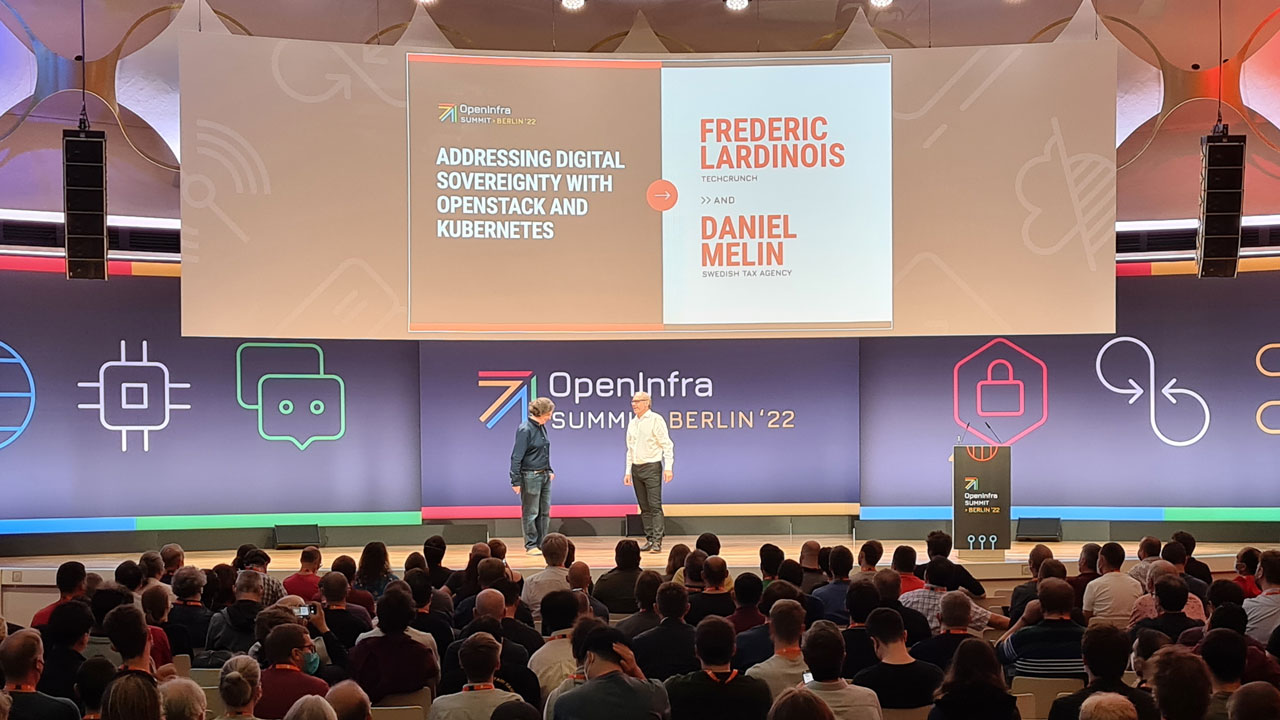 Frederic Lardinois from TechCrunch interviewed Dr. Franziska Brantiner from Germany's federal ministry for economic affairs and climate action and Daniel Melin from the Swedish Tax Agency.
Both countries are eager to push the digital agenda forwards and become better at using the power of digital. However, it is equally clear that digital sovereignty is essential in the light of geopolitical challenges which affect supply chains to national security in so many ways.
In addition to doing what the EU is used to doing – creating funds to support various projects – there is also a more direct application of capital. For instance, the Swedish Tax Agency is opening up to use open source projects in a more prominent way to create a better choice in the market. Procuring new types of applications where open source is at heart brings changes that will affect the whole industry.
Open infrastructure has never been more important as digital sovereignty and choice in the market have become critical factors for governments and enterprises worldwide. OpenInfra Foundation is a crucial stakeholder in ensuring that those open source projects can thrive and be part of our ecosystems.
Consider joining the open-source projects that are important to you and your organization!